JANET FAIRBANKS, AICP (1951-2010)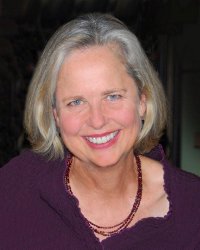 We honor Janet's inspiration, accomplishments, spirit, humor and friendship.
Janet Fairbanks became a member of the California Planning Roundtable in 1988.   Always an activist planner, Janet helped people take on the hard issues of integrating economic vitality and ecological integrity. Janet would mobilize people by taking them out to see the devastating poverty in the Tijuana colonias and the environmental degradation in the Tijuana estuary. Working together with local community members, Janet took action to preserve delicate ecosystems and develop healthy communities in the San Diego region and across California.  Collaborating with Andrea Lawrence, a Sierra activist, Janet played an essential role in building the funds and community support to establish the Andrea Lawrence Institute for Mountains and Rivers, a planning forum to identify and address key challenges confronting the Eastern Sierra Nevada.
Janet loved the outdoors and was an avid hiker, runner and camper. In 2009, she completed three half-marathons. After she was diagnosed with cancer in February 2010, her fellow Roundtable members made plans with Janet to take part in the America's Favorite City Half Marathon/5K on August 15, 2010. Janet did not live to see that race. In Janet's honor, many California Planning Roundtable members came to San Diego to walk/run in the San Diego Half Marathon as "Team Janet" and meet Janet's family. The pictures on this page are from that day.
While she was ill, Janet created a blog on the website http://www.caringbridge.org/visit/janetfairbanks/journal to chronicle her treatments, triumphs and setbacks. Janet generously shared her experience, a gift to others living with cancer. Her gumption and humor throughout her illness were inspirational.
Most of all, Janet loved her life with her husband, Bruce Dammann, her sons Kellen, Ross, Reid and Ryan and their wives. She relished the adventures of her boys and shared them with her many friends.