California Planning Roundtable
Mission: California Planning Roundtable advances planning practice and influences policy through innovation and leadership to create healthy, prosperous and equitable communities. We are a resource for policy exploration, innovation and development for California planning to enhance the sustainability, equity and livability of California communities. CPR focuses on emerging policy issues with cutting edge solutions.
About Us
Overview, History and Membership
Projects
Ongoing work of the Roundtable
Publications
What we've published
Resources
For planners and administrators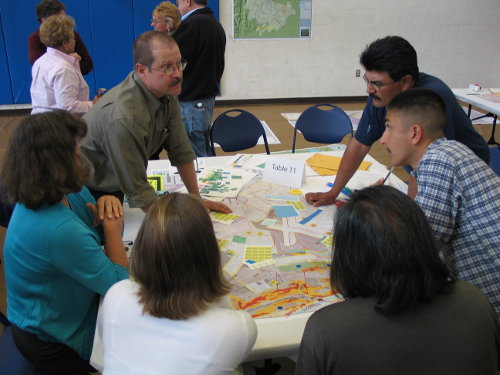 Promoting Effective Planning
CPR is committed to enhancing essential planning skills for practicing planners to promote effective planning. To accomplish this goal, CPR will offer interactive sessions and workshops at the APA California conference and other possible venues on core skills that may not be taught in typical planning curriculums,but are usually "lessons learned" through direct work experience. Possible workshop topics include strategic thinking, communication skills, project management, and effective community engagement and education.
What's New
The latest from the Roundtable
Planners4Health California
Planners4Health California in Full Motion - In collaboration with APA California, members of the CPR Healthy Communities work group prepared and submitted a successful Planners4Health grant application to the American Planning Association. Planners4Health is intended to build capacity within the eight APA California' Sections in collaboration with the American Public Health Association. Among other activities, a statewide convening focused on efforts in southern California is being planned for late summer/early fall. More details to come. To read the press release, please follow this link.
Infill Development
While building near existing transit, infrastructure and conveniences can help address social, economic and environmental challenges, developing within established communities can be difficult. CPR's "Infill Project" examines obstacles to infill development and how they can be overcome. Visit CPR's Infill Project page.
Reinventing the General Plan
California communities are facing crises on many fronts, including climate change, financially strapped governments, congestion, unaffordable housing, and job loss. The General Plan is the single best tool to help communities tackle these issues in the comprehensive, "big picture" way that generates sustainable positive change. Too often, however, the General Plan is enormously costly, complex and ineffective. Read more...