Jeffrey Lambert, AICP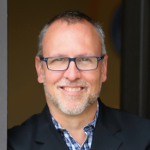 Jeffrey Lambert serves as the Community Development Director for the City of Ventura. He grew up on the East Coast and received his Bachelor of Arts from Clark University in 1985. He then traveled west and received his Master of Planning from USC in 1988 and his membership to American Institute of Certified Planners (AICP) in 1990.

Jeffrey's affiliation with the American Planning Association began in 1992 as the Annual Conference Chair, followed by Workshop Director (1993-1995), Los Angeles Section Director (1994-1996), California Chapter President (2001-2002), and, most recently, Region VI National Board Member (2006-2010).

Jeffrey has an extensive planning background. He started as a Planning Technician in March 1986 in West Hollywood. Two years later he started working for a Consultant company representing clients on land use matters and on to Kaiser Permanente. For Kaiser Permanente he managed land use real estate assets, obtained approvals for new and expanded medical facilities for the Southern California Region, and represented the organization before local public bodies such as planning commissions and city councils.

After five years, he moved on to the City of Santa Clarita, as the Planning Manager and then the Director of Planning & Building Services. While there he was responsible for the Planning Division, Building Division, GIS Division, and Environmental Services Division with full time staff of 60. He then left the public sector and started his own consultant service providing planning and government relations services to public and private clients.

Jeffrey joined the City of Ventura as the Community Development Director in June 2009. As Director, Jeffrey oversees the Planning, Economic Development & Revitalization, and Building & Safety divisions with a staff of 52.