Woodie Tescher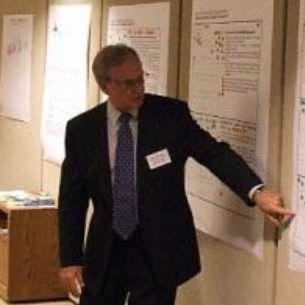 Woodie Tescher is the Principal for Planning + Urban Design for The Planning Center | DC&E. Mr. Tescher has prepared policy and regulatory planning and design documents for communities throughout California. Some of these include the General Plan Framework for the City of Los Angeles; general plans for the cities of Pasadena, Newport Beach, Sacramento, Agoura Hills, La Habra, Temple City, Beverly Hills, Corona, Ontario Sphere of Influence (New Model Colony), and Redondo Beach; specific plans for Santa Monica's Third Street Promenade, Long Beach's East Village Arts District, San Gabriel's Valley Boulevard Corridor and Neighborhoods, Downey Landing, and Azusa-Pacific University; transit-oriented development plans for Santa Monica's Bergamot Transit Village and Creative Arts Districts, Laguna Niguel's Gateway District, and Los Angeles' Jefferson-La Cienega Expo Rail Station Area; and policy plans for the development of an integrated campus and community for the recently constructed University of California at Merced.
Mr. Tescher is a member of the California Planning Roundtable and the recipient of the American Planning Association California Chapter's Distinguished Planner Award, the Planner Emeritus Network's Award of Honor, and UCLA Extension's Distinguished Instructor Award. He has also received numerous professional awards for general and specific plans prepared under his guidance.
Mr. Tescher received his Bachelor of Architecture degree from the University of Southern California and Master of Architecture, Urban Design degree from UCLA. He serves as an Adjunct Instructor for USC's Price School of Public Policy and serves on the faculty of UCLA Extension Public Policy Program.