Hanson Hom, AICP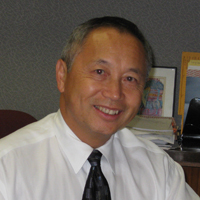 Hanson Hom is currently the Director of Community Development for the City of Sunnyvale where he oversees the City's building, planning and housing divisions. He has over 35 years of public sector experience in the San Francisco Bay Area with the cities of San Leandro, Alameda, Hayward, and Vallejo and the Port of Oakland and East Bay Regional Park District. As a licensed landscape architect, he combines his planning and environmental design expertise with a strong commitment to promoting excellent urban design and sustainable, walkable and transit-supportive communities. He has overseen several general and specific plans that have received honor awards from the American Planning Association (APA) California Chapter and Northern Section.
Hanson is an active member of APA and has served on the APA California-Northern Section Board since 2004. He is currently the Immediate Past Director for the Northern Section and was the Ethics Review Director for over four years. He currently serves on the Section's Mentorship Program Committee and is committed to helping to grow the next generation of planners. At the national level, Hanson participated on the AICP Membership Committee as Region VI Representative from 2006 to 2011. Hanson has organized sessions and presented at state and national APA conferences on topics such as planning ethics, transited oriented development, Grand Boulevard Initiative, diversity in planning, career planning, regional smart growth, and corridor new urbanism. He has assisted in organizing APA conferences: Conference Co-Chair, 2015 California Chapter Conference (Oakland); Program Sessions Chair, 2007 California Chapter Conference (San Jose); Mobile Workshops Committee, 2005 National Conference (San Francisco).
Hanson is a proud native of California with a permanent residence in Alameda, California, where he resides with his wife and proudly raised a son and daughter. He enjoys the outdoors and travelling, with an interest in visiting national parks and world class cities.
Recognitions:
Onizuka Air Force Station Redevelopment Plan - Most Creative Deal Award, Silicon Valley Business Journal (2013)
Distinguished Alumni Award - San Jos? State University Urban and Regional Planning Department (2009)
Downtown San Leandro Transit-Oriented Development Strategy - Honor Award, Best Focus Plan, APA California Chapter Northern Section (2008)
East 14th South Area Development Strategy - Honor Award, Best Comprehensive Plan, APA California Chapter (2004)
Entrepreneurial Spirit Award - San Leandro Chamber Commerce (2003)
San Leandro General Plan - Honor Award, Best Comprehensive Plan, APA California Chapter (2002)
Education:
MPA, Masters of Public Administration, Public Policy Development Emphasis , California State University, East Bay
MUP, Masters of Urban and Regional Planning, San Jos? State University
BA, Landscape Architecture, University of California, Berkeley
Certified Economic Development Finance Professional, National Development Council
Licensed Landscape Architect, State of California, #1956